Fellowship, Worship, and Deeper Intimacy with Jesus
New Building Celebration This Sunday
God has opened another door for us! This has been quite a journey and adventure and we are very excited to say that we will be meeting in our new place this Sunday, February 26th at 10:00 am.
🔥 Join us for worship, fellowship, and come with us on the journey of going deeper into intimacy with Jesus and participating in the true body of Christ.
❤️ Bring all of your hurts and struggles and we'll lay them down together as we form relationship with each other and find the healing and freedom Jesus has for us.
Directions and Parking
Our new address is 5463 Jefferson NE 87109
Parking is easy! It is a parking lot with plenty of spaces up front by the entrance.
Check out the map below to get an idea where it is 👇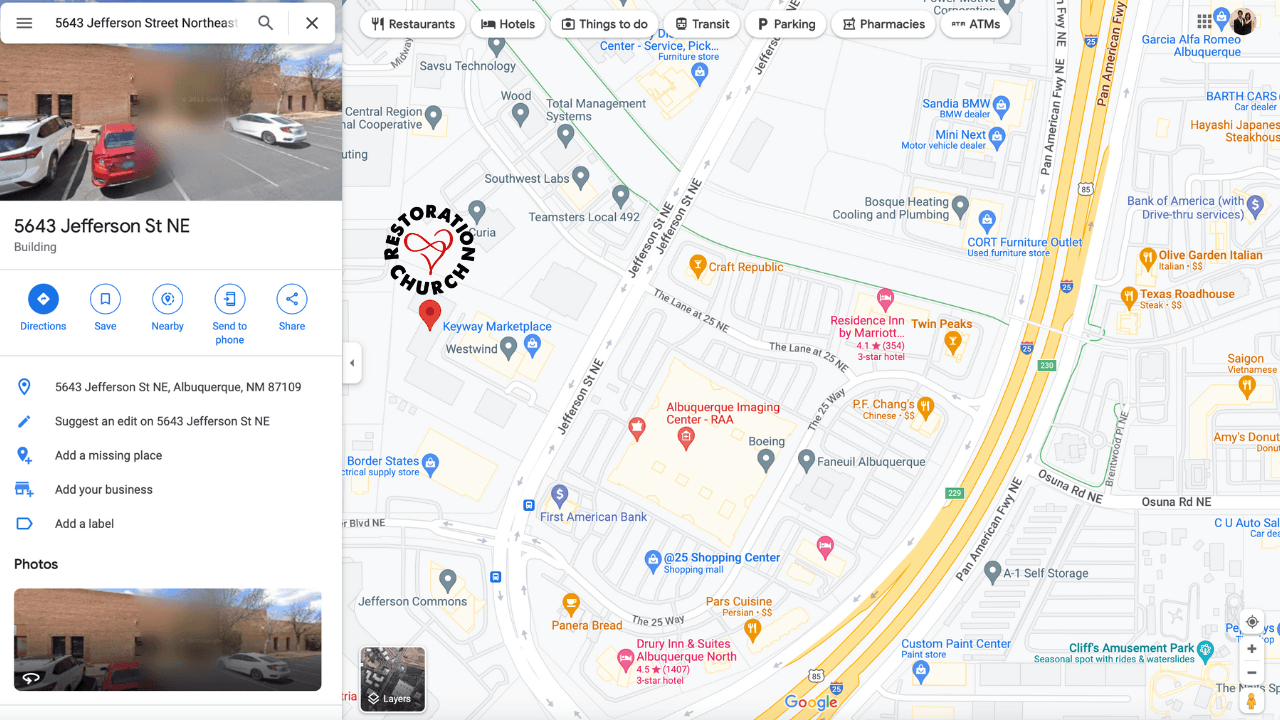 Children's Ministry Information
Children in 1st - 5th grade will participate in Restoration Kidz Ministry.
At Restoration Church our kids experience safe, age-appropriate environments where they learn about Jesus in a creative and relevant way.
We would love to see you and your family visit Restoration Kidz. We know your kids will have a blast and take away key lessons and insights about Jesus they will apply to their life.
Here's what to expect when visiting Restoration Kidz for the first time:
First, find the area marked for first-time families. There we will meet your family, check your child into our system, and then one of our volunteers will lead your child to their age-appropriate room.
Upon checking in for the first time, we will ask for the following personal information (NOTE: We value your privacy and will not share this information with anyone):
Parent/guardian name(s)
Phone number
Child's name
Any special instructions (allergies, special needs) for your children
Children in middle school and up will participate in main service and be integrated into the community of fellowship.
Make Sunday easy for yourself and let us know your family is coming and pre-register your children below